You are here

Insurance
Insurance
We offer quality, specialized insurance to help clients reduce the potential financial burdens associated with disability, illness, and death. We work with you to determine your needs and what options best fit your situation.
Long Term Care / Home Care:
For more Long Term Care information, click here.
Schedule a meeting with us to discuss your options - we have a variety of ways to help fund your long-term care expenses. Traditional Long Term Care, Life Insurance-based LTC, Annuity-based LTC (also known as Asset Based) or using a rider with permanent life insurance.
Life Insurance:
Life insurance helps to secure your family's financial future after you and/or your spouse passes away. Before purchasing a life insurance policy, you should consider your financial situation and the standard of living you want to maintain for your dependents. For example, who will be responsible for your funeral costs and final medical bills? Would your family have to relocate? Will there be adequate funds for future or ongoing expenses such as daycare, mortgage payments and college?
Figuring out how much life insurance you need? Click here for a calculator.
Review current life insurance - As your life situation changes through the years, so do your insurance needs. A regular review of your life insurance coverage and beneficiaries every few years is important.
Other important areas are key person, business continuation and succession planning.
If you have questions about your current coverage, or about the type of policy to best fit your situation, feel free to contact us.
Get a Term Life Insurance "instant" quote by following our link: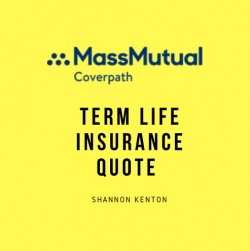 Disability Insurance:
Your ability to earn a living is your most valuable long-term asset. However, according to the Social Security Administration, just over one in four of today's 20 year-olds will become disabled before reaching retirement age. Disability insurance can help support your family's needs if you can no longer work because of an injury or illness.
Let us help you protect a portion of your income and savings if you become sick or injured and are unable to work. If you own a business, let's discuss business overhead expenses.